Sunday, March 20, 2005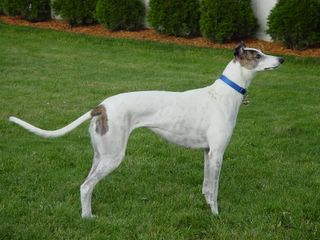 Glow's racing name was "
Glow in the Bark
". Glow broke her right rear leg while racing at Dairyland track in Wisconsin on Dec 10, 2003. Glows leg has mended very well and she has complete use of it. Glow is very playful and likes to run laps around the trees in the back yard. She and Stephanie also love to chase the squirrels that come into the yard.

Posted by

Theo
at 10:02 AM

Saturday, March 19, 2005
I am creating this small memorial to our greyhound named Monty. His racing name was "
New Month
". Monty's sire was
Greys Statesman
, who is also the sire to Stephanie one of our other hounds. We took Monty into our home on February 5 2005 with the hope of providing him a happy home. When we got Monty, he was very frightened of men, but he warmed up to me very quickly. He loved walks and earned the name of "Big Budger". He would always come and "budge" you with his nose to get a pet on the head. His sister,
Stephanie
, is the "Little Budger". They would both budge you at the same time for pets and attention. I wonder if Greys Statesman was also a "budger". Monty was the first to get up in the morning and was always ready for his breakfast. When we went for walks, he was always in front and eyes straight forward. He liked to visit trees along the way, but usually just to sniff. Due to his multiple medical problems, it was necessary to put him to sleep. We tried our best to work with him, but we were losing the battle. We only had Monty for a short time, but we still loved him as if we had him for years. We miss him and wish that there would have been some way to save him.
Posted by

Theo
at 12:39 PM

Posted by

Theo
at 12:29 PM